Give us a Call
01384 443999
SEND A MESSAGE
reception@wollaston-chiropractic-clinic.co.uk
Visit our Location
11 Church Street, Stourbridge, DY8 1LT
Opening Hours
Mon – Fri: 9:00am till 7:00pm Sat: 9:00am till 3:00pm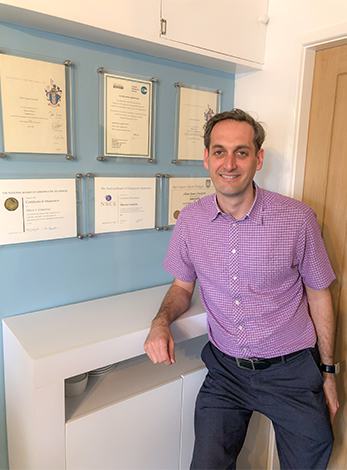 Qualifications
With two Degrees and the American Chiropractic qualifications, Oliver is one of the more experienced Chiropractors in the area.
He studied at the Anglo European Chiropractic College which has been at the forefront of Chiropractic education in Europe for over 55 years.
He graduated with two degrees: a BSc(hons), and an MSc (chiro). The training took a total of 5 years. In addition to his British qualifications he also took his Part I, II, III, and IV of the American National Board exams (the American equivalent of the British Chiropractic exams).He is a fully registered Chiropractor (registered with the General Chiropractic Association since its inception), and is currently in his 25th year of practice.
25
Total years experience
21
Years at Wollaston Spinal Health